More Awards
Alex Stuetze Memorial Pediatric Nursing Award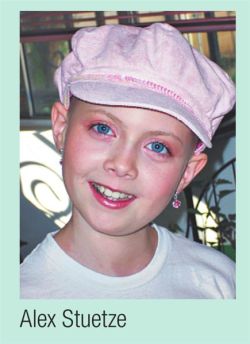 The Alex Stuetze Memorial Pediatric Nursing Award was created to honor Nurses in the field of pediatrics who persistently go above and beyond the scope of their duties by investing their hearts and lives to the care of our children.
Our daughter, Alex, was hospitalized frequently during her fight with cancer, and there were many people who influenced our day-to-day lives: doctors, Nurses, patient-care technicians, and pharmacists. One of the most memorable was a wonderful nurse who practically made us part of her family. She checked in on her days off and stayed late to make sure we were comfortable with the next shift. She held my hand when we got bad news, cried with us, laughed with us, celebrated birthdays and holidays with us, and always took the time to make sure we understood what was happening. We never had an unanswered question or an unheeded appeal. She was our guardian angel.
My husband and I created this award in 2007 to honor the memory of our daughter, who we lost to leukemia in 2006. She was our piece of heaven on earth; she gave wholeheartedly of herself to everyone...like the Nurses who took such amazing care of her. We are honored that this award is now part of the Fabulous 50 Nurses celebration and we look forward to honoring pediatric Nurses for years to come.
-Betsy Stuetze